This is a project I wrote about a few weeks ago & was featured on Sew Much Ado!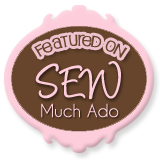 I found this old, ugly platter a few months ago at a garage sale for $1 and I knew exactly what I wanted to do with it!

I knew I'd be decorating Fritter's "big" girl room when we moved in our new house, so I wanted to make an initial platter to hang over her bed!
So I sprayed painted it a fun pink color:
and it came out like this:
So much better! :-)
Then I wrote a big "A" on a sheet of paper, then set carbon paper underneath it & traced it onto the platter.

Then you have a great stencil to paint on.
Then I got a matching turquiose craft paint & painted it on with a small paintbrush.
And then you have this:
I then added some matching fabric scraps to make a hanger & tied it with a bow & hot glued it to the back! I love it over her bed & think it goes perfectly!
So for about $2-3 I made a super fun initial platter to hang over her bed!